Email Mika to find out dates for ongoing community hand drum classes.
Group classes are usually once a month; please join my mailing list for updates.
Classes are a combination of structured rhythms and improvisation. and are accessible to drummers of all levels, including first time drummers and experienced players.
RSVP is appreciated, but drop-ins are also fine.
I request a $10-$20 sliding scale donation, but no one will be turned away for lack of funds.
The session are a mix of basic instruction and creative exploration and very beginner friendly. All types of hand drums are welcome and Plenty of extra drums are available.
I also provide excellent private lessons for hand drums, drum set or guitar.
YOUTUBE INSTRUCTIONAL VIDEOS
Group classes are not a good way to learn basic technique for hand drums.
Therefore, I've just created two new Youtube instructional videos.
Basic Conga Technique:
http://youtu.be/kt3C6gykGFY
Basic Djembe Technique
http://www.youtube.com/watch?v=fEBg1EB3aVY
Are you Interested in learning Hand Drumming, but unsure about kind of drum or style you want to play? Mika teaches a wide variety of hand drumming styles with a variety of different drums to adults and children of all ages and abilities in Marin County and the East Bay.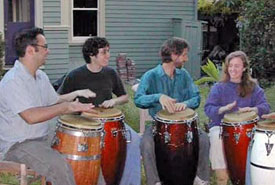 Mika offers lessons in Culturally Specific Drumming learning patterns and hand drum techniques from Latin America and Africa. He also gives instruction in Community Drumming, assisting students in learning hand drum techniques to improvise and explore different ways of creating ones own musical expression.The article below was featured in the artist section of Open Exchange Magazine.Fun And Transformation Through DrummingAfter many years of teaching drumming in many settings, I've observed my students thriving most when given room to express themselves in a playful and creative way while also provided with patient, clear and challenging instruction. I believe that all the stages that we want to grow in as human beings can be reflected through drumming.

The first "free play" stage is about simply exploring different rhythms and sounds of the drum. In this way we learn to follow and trust our unfiltered and spontaneous impulses without being restricted by our criticisms and judgements. Gradually, we move towards the stage of "developing technique". By striking the drum with different positions of the hand, we can produce a wide range of different tones. By playing these different tones in patterns we start creating more intricate rhythms.At this point we can begin the next stage of "community drumming" where we combine our individual patterns into group rhythms creating a unique shared experience.

As we put into practice these different stages of development, we eventually create more complex arrangements, that integrate spontaneity and structure. Through this process we build confidence as we discover a language to express the many peaks and valleys of our internal landscape that can't be described in words.

Contact: mika@drummingmagic.com (415) 482-1610