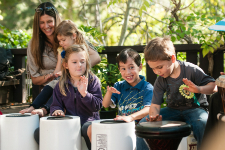 Mika's Family Music events are designed to promote connection, creativity and fun through musical games and activities. No previous musical experience necessary. Families may bring instruments if they choose, but a variety of instruments along with experienced facilitation will be provided.
Mika offers sessions for individual families or community family jam sessions.
Sessions for individual families are custom tailored to meet the different developmental needs of the children involved. Aside from Mika's playful rhythm games and activities, families can create songs and even family videos together!
A typical family community jam session starts with a community drum circle around 30 minutes long followed with a break to let people mingle and socialize. A second set might include sing along songs (Mika on Guitar), with kids dancing/sings and doing percussion.
Families that play together, stay together!
For more information contact:
mika@drummingmagic.com (415) 482-1610